Broadcast Transmission Logger
vLogger is a powerful broadcast and media application used by customers for recording, monitoring and archiving their broadcasted content. vLogger captures and stores your broadcast signal 24x7 to meet all your business needs. It allows the logged video to be viewed on any standard PC using a dedicated application or a web interface. All recordings are segmented and indexed with basic metadata attached automatically and is made available for remote browsing immediately.

vLogger encodes the live channel video feed and stores the digital video on the storage server. The video storage has redundancy levels by the provision of one hot pluggable spare drive and RAID3 (optional) implementation. The superior compression of Mpeg-4 standard used by the system, offers a wide range of encoding bit rates, and hence provides greater flexibility to achieve the best possible combination of video quality and storage.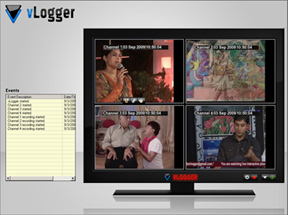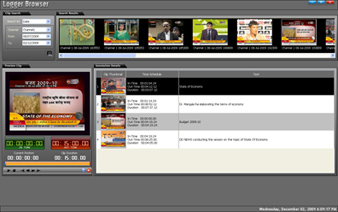 Key Features
• 24X7X365 days recording.
• Automatic indexing and segmentation of programs.
• Web Streaming
• Flexible video and audio bit rates
• Date and Time stamping on clips
• MPEG 4 and Windows Media Video 9 Format Compatible
• Metadata management and inbuilt search engine to search clips based on metadata
• PAL/NTSC compatible.
• Automatic clip creation based on user defined time spans.
• Interface to monitor multiple channels simultaneously.
• Recording as per the schedule
• CD/DVD archive option.
• Modular system to allow for multi channel network.

Download - vLoggr Product Sheet